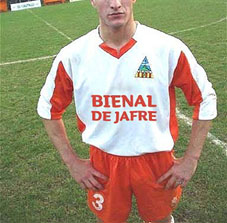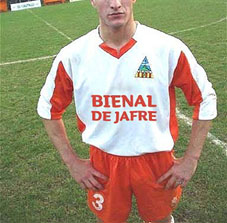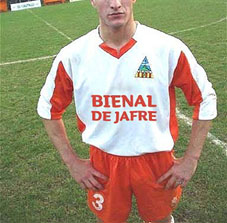 BIENAL DE JAFRE
9 I 10 D 'AGOST 2003
FRANCIS ALYS JORDI COLOMER CARLES CONGOST OLIVIA FLECHA
PAUL HARRISON & JOHN WOOD BIGAS LUNA JORGE MACCHI MIREYA MASÓ
JORDI MITJÀ JAUME PITARCH SANTIAGO SIERRA DANIEL TERUGGI
RUI TOSCANO SALLA TYKKÄ ANTONIO ZAYA
Organizadores Carolina Grau & Mario Flecha
Sonido Daniel Teruggi
Diseņador Grafico Alex Gifreu
El centro esta en todas partes
Paracelso
A orillas del rio Ter se encuentra el pueblo de Jafre, en el Baix Empordà, en la provincia de Girona.Lejos de los malabaristas del lenguaje visual de los centros urbanos, ausente de instituciones,carente de las ambiciones y ruidos que producen cierta fama y sin embargo... es un lugar donde vivir y organizar una exposición y un concierto de musica electroacústica. Podría escribir un tratado justificando una acción que parece absurda pero temo aburrirlos, tal vez tendría que inventar alguna paradoja,mentirles con palabras obtenidas en el diccionario de las palabras sin sentido y exigir que la lean sin respirar y la realidad será otra entre acá y allá simultáneamente...
The centre is everywhere
On the left bank of the River Ter there is a village called Jafre, in Baix Ampurda province of Girona.Far away from the jugglers of visual art in urban centres, lacking cultural institutions, without the ambitions generated by fame...and yet what better place to live, organise a contemporary art exhibition and concert of electro acoustic music.At the risk of boring the reader, I could write an essay justifying this apparently absurd action or even invent a paradox. I could lie to you with meaningless words from the dictionary and demand you read it without drawing breath. Either way, reality would be different, lying somewhere in between.
El centre está a tot arreu
A la vora del Riu Ter es troba el poble de Jafre, al Baix Empordà la província de Girona.Lluny dels malabaristes del llenguatge visual dels centres urbans, absent d'institucions, sense ambicions i sorolls que produeixen certa fama, i tanmateix... és un lloc on poder viure i organitzar una exposició i un concert de música electroacustica Podria escriure un tractat justificant aquesta acció que sembla absurda, però tinc por d'avorrir-los, potser hauria d'inventar alguna paradoxa, mentir-los amb paraules obtingudes en el diccionari de les paraules sense sentit i demanar que la llegeixin sense respirar i la realitat seria una altra entre aquí i allí simultàniament ...
Le centre est partout
Aux bords du fleuve Ter se trouve le village de Jafre, dans le bas ampurdan dans la province de Gérone Loin des prestidigitateurs du langage visuel des grandes villes, absent d'institutions, dépourvu des ambitions et bruits qui rendent fameux et pourtant.. c'est un endroit pour vivre et organiser une exposition ainsi qu'un concert de musique électroacoustique. Je pourrai écrire un traité qui justifierait une action pouvant paraître absurde, mais je crains de vous ennuyer, je devrais peut-être inventer un paradoxe, vous mentir avec des mots issus du dictionnaire de mots sans dessus-dessous et vous contraindre à le lire sans respirer ; la réalité serait une autre entre là-bas et ici simultanément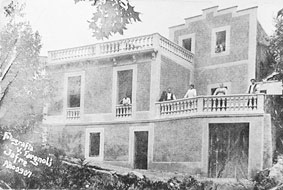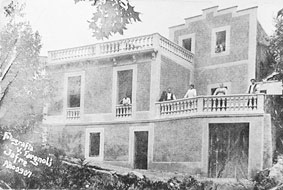 mario flecha
4 carrer de ferreries, jafre de ter, girona 17143, españa
t 34 972 768 152 email:marioflecha@another.com